APOLLO DUET AT THE WECOSMOPROF INTL. DIGITAL EVENT  
D.B SkinTech Innovation has presented its product portfolio, including Apollo Duet, at the WeCosmoprof International digital event – the biggest business event for the beauty industry – on June 7-18, 2021. 
This was a great opportunity to share information about our product line, present and future, and about our attractive partnership offer to distributors.
The event has exposed Apollo Duet to several new distributors worldwide, who will start offering the device to their customers very soon! 
PRESENTING APOLLO DUET AT COSMOPROF BOLOGNA 2022  
Apollo Duet will be presented at the annual Cosmoprof Worldwide Exhibit in Bologna (Italy), scheduled for 10-14 March, 2022.
The Cosmoprof exhibition is an opportunity for distributors, business owners and professionals in the beauty industry to keep up to date with the latest equipment, products, and services available for their businesses. In 2019, the Cosmoprof worldwide exhibit was attended by over 260,000 visitors from all over the world.
Stay tuned for further details.
APOLLO DUET PRESENTED AT THE CABINES CONVENTION  
In December 2019, D.B SkinTech Innovation presented Apollo Duet at the Cabines bi-annual professional cosmetics convention – 'Beauty Talk' – at the Waldorf Astoria hotel in Jerusalem. The convention was attended by circa 800 cosmeticians, as well as by representatives of cosmetics products and equipment.
Apollo Duet was introduced and demonstrated to many of the convention visitors. The product was received with much enthusiasm, and the purchase orders have shortly followed.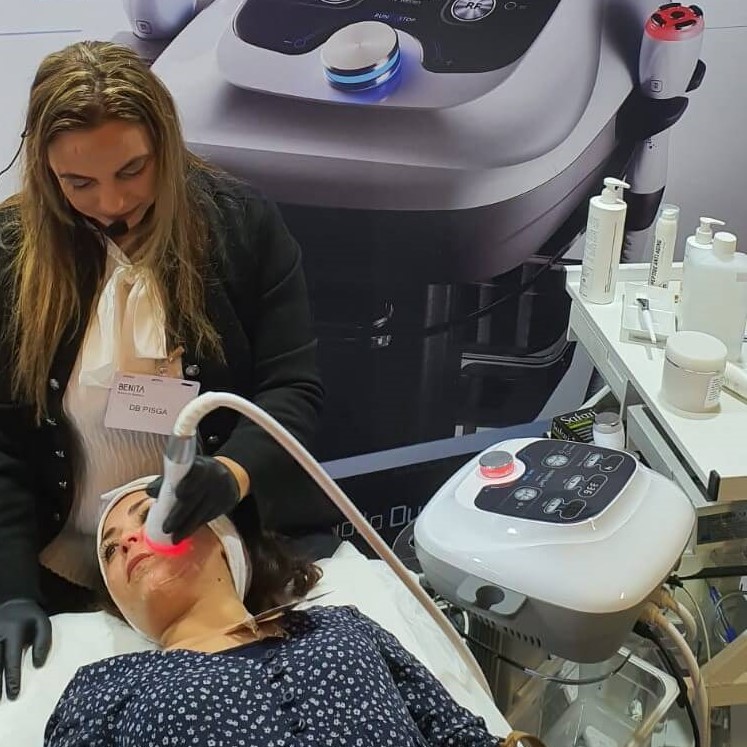 FIRST SEMINAR FOR APOLLO DUET USERS
In October 2019 D.B SkinTech Innovation held the first seminar for Apollo Duet users, in the Ramada hotel in Hadera, Israel. 
The seminar was attended by Mrs. Eunice Cho, director of WEERO Korea, as well as by circa 30 cosmeticians, who have bought the system by then.
Following a greetings session, the seminar included an overview of the Apollo Duet capabilities, practical product instructions, demonstration of the system at work, as well as a festive lunch.  
THE APOLLO DUET 'SPACE-STYLE' LAUNCH  
Apollo Duet was launched in Israel in September 2019.
As suitable for a product that is named after a spacecraft, the first orders of Apollo Duet were handed to customers by an (impersonator) astronaut. The creative delivery – both in a small event in D.B offices and to selected cosmetic clinics – was met by much surprise, amusement and appreciation.